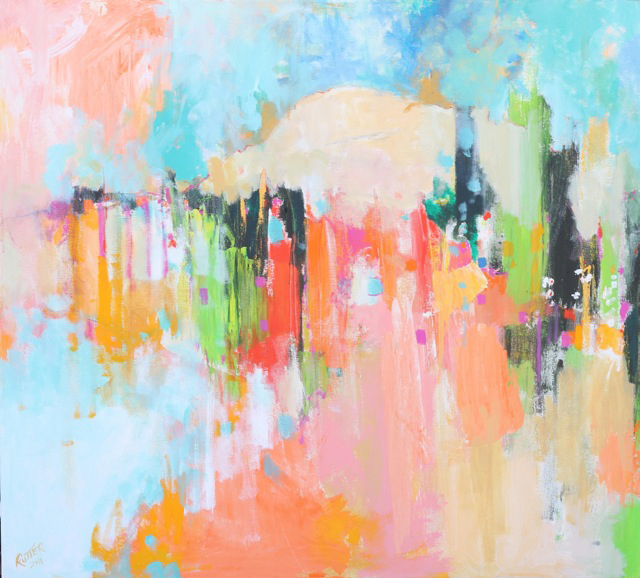 If you were to try to synthesize Nancy Rutter's art in a short catch phrase, it might be described best by what one critic labeled, "the structure of color."
Fascinated with the tonal interplay of color and form, Nancy takes her inspiration from nature, specifically Columbia County in New York State – a spot of varying beauty and vistas where she is always challenged by the atmosphere and patchwork of light and shadows that dance across the views.
Born in New York City, Nancy went to the High School of Music and Art and New York University where she studied traditional drawing and painting and received a solid grounding in art history.
The years Nancy spent living in Ireland and France were important in moving her toward more abstract forms and brilliant color. In Ireland, she lived in County Tipperary where she renovated two Georgian country homes and became interested in Irish equestrian life, painting coursing horses as they galloped through the Irish fields.
During the year she lived in France, Nancy studied at the world-famous Atelier 17 founded by Stanley Hayter where she focused on the use of color in the etching medium. Later Nancy taught color etching at the Limerick College of Art in Ireland. In France, Nancy renovated an old farmhouse in the Peche region in Normandy.
While the life of cafes and markets was beguiling, after four years, Nancy returned to America, settling in Columbia County where she and her husband designed a home in the woods. Some have likened it to a tree house since it appears to be an old farmhouse perched high up on a hill. A few steps away is her painting and etching studio.
A brilliant colorist, there's a painterly quality to Nancy Rutter's work that betrays her love of the materials she works with – the paints and the glazes. So while the work appears very free and painterly, closer examination reveals a deft geometric interplay of forms and shapes and colors – hence the label "the structure of color." Her art is also about the element of surprise. It has something unexpected, something that will linger in the mind of anyone who looks at her work.

Career Highlights
Arts Students League of New York, Ford Scholarship
Bob Blackburn's Printmaking Workshop, edition printing and personal work.
National Society of Arts and Letters, Young Printmaker Award.
Hudson River Museum Printmaking Demonstrations and lectures.
Atelier 17, Contrepoint, personal work in Paris.
Limerick College of Art, Ireland lecturer: color etching techniques.
Washington Art Association, Washington, Ct. painting and etching courses.
Road Kill Art Association, Kent, Ct. printmaking workshops.
The High School of Music and Art, New York University.